Color Me Home
We opened up the
Color Me Home Blog
a couple of days ago but with all the new Auntie excitement I have not posted yet. So here it is! I am going to steal an excerpt from Jim's blog because he describes it so well.
This is our first coloring book and it has a theme. Our theme is "Under the Sea." We feel that sea creatures give a greater opportunity for color choice and creativity. You will find all manner of sea creature! Fishes of every shape and size! Crabs, starfish, and sea horses also complement this book. There are twenty-five pages for your little one, or you (we promise to tell no one), to color! We have also designed the cover to be colored.
Jim has drawn all the pictures including the cover and I am so happy with the way it turned out. We hope to have a few different themes in the next few weeks but we are starting with the Under the Sea book. you can see a couple examples of the books and the drawing on the
Color Me Home
site.
We need about $6500 to complete the adoption, this money will be used to cover things like immigration expenses, the required orphanage donation and travel expenses to bring Aiden home. We know this is a lot of coloring books however we also are still selling
That's My Pan
and I am still making dresses and blankets at
Little Miss Blankets and Stuff
. Of all of our fundraisers, I have great hopes for
Color Me Home
. After our adoption I really hope to continue and help as many children as we can one coloring book at a time.
So please grab our button and spread the word about
Color Me Home
.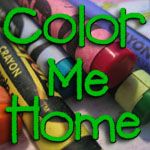 Special thanks to Diana at
Custom Blog Designs
for helping me with the button.